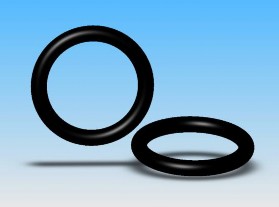 GENERAL PURPOSE Z1210 PERFLUOROELASTOMER
Markez Z1210 was developed as a general use perfluoroelastomer compound with added acid resistance. Available in o-rings and special shapes.
FEATURES AND BENEFITS

Wide chemical compatibility
Minimum extractables
Low compression set
Meets ASTM D2000

APPLICATIONS

Acids
Bases
Alcohols
Aldehydes
Amines
Triethylamine
Sodium Hydroxide
Steam/Hot Water
Chemical & Hydro Carbon Processing
Aromatic/Aliphatic Oils
Ethers
Esters
Ketones
MEK
Oxidizers
TYPICAL PHYSICAL PROPERTIES
PROPERTIES

ASTM

VALUE

Color

Black

Material Type

FFKM

Hardness: (oIRHD)

D1415

D2240

80

Tensile Strength MPa (PSI)

D412

18.00 (2,600)

Elongation at Break

D412

160%

Compression Set

72 hrs. @ 200° C (392 ° F)

D395

22%

Minimum Operating Temperature

-7° C ( 20° F)

Maximum Operating Temperature

275° C ( 525° F)
This information is to the best of our knowledge accurate and reliable. However, Marco Rubber makes no warranty, expressed or implied, that parts manufactured from this material will perform satisfactorily in the customer's application. It's the customer's responsibility to evaluate parts prior to use.
Markez® is a Registered Trade name of Marco Rubber.