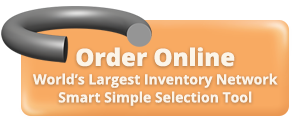 O-Rings are the most basic, cost effective and widely used rubber sealing component.
The right combination of O-Ring material and O-Ring groove design will maximize sealing performance life. We make buying O-Rings quick and easy with low minimum orders and responsive service.
We Supply All the Popular O-Ring Materials in Any Durometer Hardness and Color Variation. Pantone color matching, although colors can look differently in rubber than other surfaces.
We Supply All O-Ring Brands, Compliance Types and Specialty Performance Materials:
Kalrez® O-Rings
Parker O-Rings
Marco Rubber O-Rings
Medical Grade O-Rings
USP Class VI O-Rings
FDA O-Rings
Drinking Water NSF 61 O-Rings
3A O-Rings
Marco Rubber O-Rings
High Temperature O-Rings
High Pressure O-Rings
Chemical Resistant O-Rings
Lower temperature O-Rings
Steam Resistance
Explosive Decompression
Sunlight
UV
Ozone
Weathering resistance
Steam Resistance
Gas and fuel resistance
Oil resistance
Internal self-lubricating
Metal and X-Ray
Conductive and EMI Shielding
Any O-Ring Size
USA AS568 O-Rings, 2- Parker O-Rings, Japanese JIS O-Rings, Metric O-Rings, BS British BS1806 O-Rings. Custom O-Ring Sizes Typically Without Tooling or Set Up Fees with Rush Delivery options
O-Ring Technical References
O-Ring Material Selection Reference Guides
O-Ring Sizing Charts
O-Ring Groove Design Reference Guides for general defaults and adjusted to maximize application performance