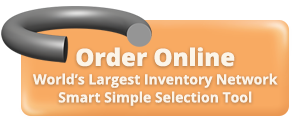 Rod and Piston Gland Design for Basic Dynamic Applications
Dynamic o-rings with rod and piston gland designs are used for most basic dynamic applications. Dynamic o-rings are diverse, providing a wide range of uses, and selecting the right one for your application is key for achieving maximum o-ring performance. This dynamic o-ring groove design guide for rod and piston glands will help you find the dynamic o-ring that's right for your application. Once you know the exact o-ring you need, you can quickly and easily order online from the world's largest inventory network.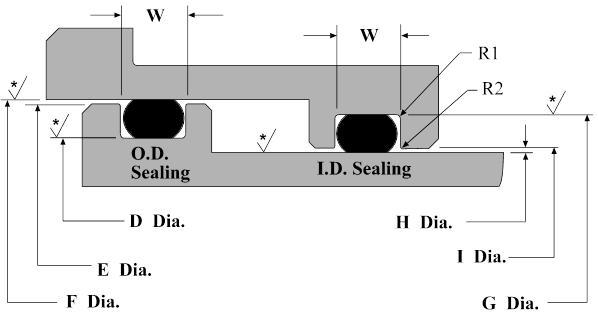 * Recommended surface finish: 16 Ra max. for gases and 32 Ra max. for fluids. All dynamic applications to have 16 Ra max.
Dynamic O-Ring Gland Width and Depth and Diameter Default Recomendations
AS568 Dash Sizes
O-Ring Cross-Section
Gland Width
(W)
Gland Corner Radii
(Max.)
dd
Nom.
Tol (+/-)
Nom.
Tol (+/-)
R1
R2
-0XX
0.070
0.003
0.095
0.002
0.007
0.005
-1XX
0.103
0.004
0.142
0.003
0.007
0.005
-2XX
0.139
0.004
0.189
0.003
0.017
0.005
-3XX
0.210
0.005
0.283
0.003
0.027
0.005
-4XX
0.275
0.006
0.377
0.003
0.027
0.005
Dash Size
O-Ring
Cross-Section
O-Ring Diameter

O.D. Sealing Type
Gland Dia
(D)

O.D. Sealing Type
Piston Dia
(E)
O.D. Sealing Type
Bore Dia
(F)
I.D. Sealing Type
Gland Dia
(G)
I.D. Sealing Type
Rod Dia
(H)
I.D. Sealing Type
Bore Dia
(I)
Nom
Tol +/-
Nom
Tol +/-
+.000 / -.002
+.000 / -.001
+.002 / -.000
+.002 / -.000
+.000 / -.002
+.001 / -.000
-006
0.070
0.003
0.114
0.005
0.139
0.247
0.249
0.234
0.124
0.126
-007
0.070
0.003
0.145
0.005
0.170
0.278
0.280
0.265
0.155
0.157
-008
0.070
0.003
0.176
0.005
0.201
0.309
0.311
0.296
0.186
0.188
-009
0.070
0.003
0.208
0.005
0.233
0.341
0.343
0.328
0.218
0.220
-010
0.070
0.003
0.239
0.005
0.264
0.372
0.374
0.359
0.249
0.251
-011
0.070
0.003
0.301
0.005
0.326
0.434
0.436
0.421
0.311
0.313
-012
0.070
0.003
0.364
0.005
0.389
0.497
0.499
0.484
0.374
0.376
Dash Size
O-Ring
Cross-Section
O-Ring Diameter
O.D. Sealing Type
Gland Dia
(D)
O.D. Sealing Type
Piston Dia
(E)
O.D. Sealing Type
Bore Dia
(F)
I.D. Sealing Type
Gland Dia
(G)
I.D. Sealing Type
Rod Dia
(H)
I.D. Sealing Type
Bore Dia
(I)
Nom
Tol +/-
Nom
Tol +/-
+.000 / -.002
+.000 / -.001
+.002 / -.000
+.002 / -.000
+.000 / -.002
+.001 / -.000
-104
0.103
0.003
0.112
0.005
0.136
0.310
0.312
0.300
0.124
0.126
-105
0.103
0.003
0.143
0.005
0.167
0.341
0.343
0.331
0.155
0.157
-106
0.103
0.003
0.174
0.005
0.198
0.372
0.374
0.362
0.186
0.188
-107
0.103
0.003
0.206
0.005
0.230
0.404
0.406
0.394
0.218
0.220
-108
0.103
0.003
0.237
0.005
0.261
0.435
0.437
0.425
0.249
0.251
-109
0.103
0.003
0.299
0.005
0.323
0.497
0.499
0.487
0.311
0.313
-110
0.103
0.003
0.362
0.005
0.386
0.560
0.562
0.550
0.374
0.376
-111
0.103
0.003
0.424
0.005
0.448
0.622
0.624
0.612
0.436
0.438
-112
0.103
0.003
0.487
0.005
0.511
0.685
0.687
0.675
0.499
0.501
-113
0.103
0.003
0.549
0.007
0.573
0.747
0.749
0.737
0.561
0.563
-114
0.103
0.003
0.612
0.009
0.636
0.810
0.812
0.800
0.624
0.626
-115
0.103
0.003
0.674
0.009
0.698
0.872
0.874
0.862
0.686
0.688
-116
0.103
0.003
0.737
0.009
0.761
0.935
0.937
0.925
0.749
0.751
Dash Size
O-Ring
Cross-Section
O-Ring Diameter
O.D. Sealing Type
Gland Dia
(D)
O.D. Sealing Type
Piston Dia
(E)
O.D. Sealing Type
Bore Dia
(F)
I.D. Sealing Type
Gland Dia
(G)
I.D. Sealing Type
Rod Dia
(H)
I.D. Sealing Type
Bore Dia
(I)
Nom
Tol +/-
Nom
Tol +/-
+.000 / -.002
+.000 / -.001
+.002 / -.000
+.002 / -.000
+.000 / -.002
+.001 / -.000
-201
0.139
0.004
0.171
0.005
0.195
0.434
0.437
0.427
0.185
0.188
-202
0.139
0.004
0.234
0.005
0.258
0.497
0.500
0.490
0.248
0.251
-203
0.139
0.004
0.296
0.005
0.320
0.559
0.562
0.552
0.310
0.313
-204
0.139
0.004
0.359
0.005
0.383
0.622
0.625
0.615
0.373
0.376
-205
0.139
0.004
0.421
0.005
0.445
0.684
0.687
0.677
0.435
0.438
-206
0.139
0.004
0.484
0.005
0.508
0.747
0.750
0.740
0.498
0.501
-207
0.139
0.004
0.546
0.007
0.570
0.809
0.812
0.802
0.560
0.563
-208
0.139
0.004
0.609
0.009
0.633
0.872
0.875
0.865
0.623
0.626
-209
0.139
0.004
0.671
0.009
0.695
0.934
0.937
0.927
0.685
0.688
-210
0.139
0.004
0.734
0.010
0.758
0.997
1.000
0.990
0.748
0.751
-211
0.139
0.004
0.796
0.010
0.820
1.059
1.062
1.052
0.810
0.813
-212
0.139
0.004
0.859
0.010
0.883
1.122
1.125
1.115
0.873
0.876
-213
0.139
0.004
0.921
0.010
0.945
1.184
1.187
1.177
0.935
0.938
-2147
0.139
0.004
0.984
0.010
1.008
1.247
1.250
1.240
0.998
1.001
-215
0.139
0.004
1.046
0.010
1.070
1.309
1.312
1.302
1.060
1.063
-216
0.139
0.004
1.109
0.012
1.133
1.372
1.375
1.365
1.123
1.126
-217
0.139
0.004
1.171
0.012
1.195
1.434
1.437
1.427
1.185
1.188
-218
0.139
0.004
1.234
0.012
1.258
1.497
1.500
1.490
1.248
1.251
-219
0.139
0.004
1.296
0.012
1.320
1.559
1.562
1.552
1.310
1.313
-220
0.139
0.004
1.359
0.012
1.383
1.622
1.625
1.619
1.373
1.376
-221
0.139
0.004
1.421
0.012
1.445
1.684
1.687
1.677
1.435
1.438
-222
0.139
0.004
1.484
0.015
1.508
1.747
1.750
1.740
1.498
1.501
Dash Size
O-Ring
Cross-Section
O-Ring Diameter
O.D. Sealing Type
Gland Dia
(D)
O.D. Sealing Type
Piston Dia
(E)
O.D. Sealing Type
Bore Dia
(F)
I.D. Sealing Type
Gland Dia
(G)
I.D. Sealing Type
Rod Dia
(H)
I.D. Sealing Type
Bore Dia
(I)
Nom
Tol +/-
Nom
Tol +/-
+.000 / -.002
+.000 / -.001
+.002 / -.000
+.002 / -.000
+.000 / -.002
+.001 / -.000
-309
0.210
0.005
0.412
0.005
0.442
0.809
0.812
0.805
0.435
0.438
-310
0.210
0.005
0.475
0.005
0.505
0.872
0.875
0.868
0.498
0.501
-311
0.210
0.005
0.537
0.007
0.567
0.934
0.937
0.930
0.560
0.563
-312
0.210
0.005
0.600
0.009
0.630
0.997
1.000
0.993
0.623
0.626
-313
0.210
0.005
0.662
0.009
0.692
1.059
1.062
1.055
0.685
0.688
-314
0.210
0.005
0.725
0.010
0.755
1.122
1.125
1.118
0.748
0.751
-315
0.210
0.005
0.787
0.010
0.817
1.184
1.187
1.180
0.810
0.813
-316
0.210
0.005
0.850
0.010
0.880
1.247
1.250
1.243
0.873
0.876
-317
0.210
0.005
0.912
0.010
0.942
1.309
1.312
1.305
0.935
0.938
-318
0.210
0.005
0.975
0.010
1.005
1.372
1.375
1.368
0.998
1.001
-319
0.210
0.005
1.037
0.010
1.067
1.434
1.437
1.430
1.060
1.063
-320
0.210
0.005
1.100
0.012
1.130
1.497
1.500
1.493
1.123
1.126
-321
0.210
0.005
1.162
0.012
1.192
1.559
1.562
1.555
1.185
1.188
-322
0.210
0.005
1.225
0.012
1.255
1.622
1.625
1.618
1.248
1.251
-323
0.210
0.005
1.287
0.012
1.317
1.684
1.687
1.680
1.310
1.313
-324
0.210
0.005
1.350
0.012
1.380
1.747
1.750
1.743
1.373
1.376
-325
0.210
0.005
1.475
0.015
1.505
1.872
1.875
1.868
1.498
1.501
-326
0.210
0.005
1.600
0.015
1.630
1.997
2.000
1.993
1.623
1.626
-327
0.210
0.005
1.725
0.015
1.755
2.122
2.125
2.118
1.748
1.751
-328
0.210
0.005
1.850
0.015
1.880
2.247
2.250
2.243
1.873
1.876
-329
0.210
0.005
1.975
0.018
2.005
2.372
2.375
2.368
1.998
2.001
-330
0.210
0.005
2.100
0.018
2.130
2.497
2.500
2.493
2.123
2.126
-331
0.210
0.005
2.225
0.018
2.255
2.622
2.625
2.618
2.248
2.251
-332
0.210
0.005
2.350
0.018
2.380
2.747
2.750
2.743
2.373
2.376
-333
0.210
0.005
2.475
0.020
2.505
2.872
2.875
2.868
2.498
2.501
-334
0.210
0.005
2.600
0.020
2.630
2.997
3.000
2.993
2.623
2.626
-335
0.210
0.005
2.725
0.020
2.755
3.122
3.125
3.118
2.748
2.751
-336
0.210
0.005
2.850
0.020
2.880
3.247
3.250
3.243
2.873
2.876
-337
0.210
0.005
2.975
0.024
3.005
3.372
3.375
3.368
2.998
3.001
-338
0.210
0.005
3.100
0.024
3.130
3.497
3.500
3.493
3.123
3.126
-339
0.210
0.005
3.225
0.024
3.255
3.622
3.625
3.618
3.248
3.251
-340
0.210
0.005
3.350
0.024
3.380
3.747
3.750
3.743
3.373
3.376
-341
0.210
0.005
3.475
0.024
3.505
3.872
3.875
3.868
3.498
3.501
-342
0.210
0.005
3.600
0.028
3.630
3.997
4.000
3.993
3.623
3.626
-343
0.210
0.005
3.725
0.028
3.755
4.122
4.125
4.118
3.748
3.751
-344
0.210
0.005
3.850
0.028
3.880
4.247
4.250
4.243
3.873
3.876
-345
0.210
0.005
3.975
0.028
4.005
4.372
4.375
4.368
3.998
4.001
-346
0.210
0.005
4.100
0.028
4.130
4.497
4.500
4.493
4.123
4.126
-347
0.210
0.005
4.225
0.030
4.255
4.622
4.625
4.618
4.248
4.251
-348
0.210
0.005
4.350
0.030
4.380
4.747
4.750
4.743
4.373
4.376
-349
0.210
0.005
4.475
0.030
4.505
4.872
4.875
4.868
4.498
4.501
Dash Size
O-Ring
Cross-Section
O-Ring Diameter
O.D. Sealing Type
Gland Dia
(D)
O.D. Sealing Type
Piston Dia
(E)
O.D. Sealing Type
Bore Dia
(F)
I.D. Sealing Type
Gland Dia|
(G)
I.D. Sealing Type
Rod Dia
(H)
I.D. Sealing Type
Bore Dia
(I)
Nom
Tol +/-
Nom
Tol +/-
+.000 / -.002
+.000 / -.001
+.002 / -.000
+.002 / -.000
+.000 / -.002
+.001 / -.000
-425
0.275
0.006
4.475
0.033
4.528
4.998
5.002
4.971
4.497
4.501
-426
0.275
0.006
4.600
0.033
4.653
5.123
5.127
5.096
4.622
4.626
-427
0.275
0.006
4.725
0.033
4.778
5.248
5.252
5.221
4.747
4.751
-428
0.275
0.006
4.850
0.033
4.903
5.373
5.377
5.346
4.872
4.876
-429
0.275
0.006
4.975
0.037
5.028
5.498
5.502
5.471
4.997
5.001
-430
0.275
0.006
5.100
0.037
5.153
5.623
5.627
5.596
5.122
5.126
-431
0.275
0.006
5.225
0.037
5.278
5.748
5.752
5.721
5.247
5.251
-432
0.275
0.006
5.350
0.037
5.403
5.873
5.877
5.846
5.372
5.376
-433
0.275
0.006
5.475
0.037
5.528
5.998
6.002
5.971
5.497
5.501
-434
0.275
0.006
5.600
0.037
5.653
6.123
6.127
6.096
5.622
5.626
-435
0.275
0.006
5.725
0.037
5.778
6.248
6.252
6.221
5.747
5.751
-436
0.275
0.006
5.850
0.037
5.903
6.373
6.377
6.346
5.872
5.876
-437
0.275
0.006
5.975
0.037
6.028
6.498
6.502
6.471
5.997
6.001
-438
0.275
0.006
6.225
0.040
6.278
6.748
6.752
6.721
6.247
6.251
-439
0.275
0.006
6.475
0.040
6.528
6.998
7.002
6.971
6.497
6.501
-440
0.275
0.006
6.725
0.040
6.778
7.248
7.252
7.221
6.747
6.751
-441
0.275
0.006
6.975
0.040
7.028
7.498
7.502
7.471
6.997
7.001
-442
0.275
0.006
7.225
0.045
7.278
7.748
7.752
7.721
7.247
7.251
-443
0.275
0.006
7.475
0.045
7.528
7.998
8.002
7.971
7.497
7.501
-444
0.275
0.006
7.725
0.045
7.778
8.248
8.252
8.221
7.747
7.751
-445
0.275
0.006
7.975
0.045
8.028
8.498
8.502
8.471
7.997
8.001
-446
0.275
0.006
8.475
0.055
8.528
8.998
9.002
8.971
8.497
8.501
-447
0.275
0.006
8.975
0.055
9.028
9.498
9.502
9.471
8.997
9.001
-448
0.275
0.006
9.475
0.055
9.528
9.998
10.002
9.971
9.497
9.501
-449
0.275
0.006
9.975
0.055
10.028
10.498
10.502
10.471
9.997
10.001
-450
0.275
0.006
10.475
0.060
10.528
10.998
11.002
10.971
10.497
10.501
-451
0.275
0.006
10.975
0.060
11.028
11.498
11.502
11.471
10.997
11.001
-452
0.275
0.006
11.475
0.060
11.528
11.998
12.002
11.971
11.497
11.501
-453
0.275
0.006
11.975
0.060
12.028
12.498
12.502
12.471
11.997
12.001
-454
0.275
0.006
12.475
0.060
12.528
12.998
13.002
12.971
12.497
12.501
-455
0.275
0.006
12.975
0.060
13.028
13.498
13.502
13.471
12.997
13.001
-456
0.275
0.006
13.475
0.070
13.528
13.998
14.002
13.971
13.497
13.501
-457
0.275
0.006
13.975
0.070
14.028
14.498
14.502
14.471
13.997
14.001
-458
0.275
0.006
14.475
0.070
14.528
14.998
15.002
14.971
14.497
14.501
-459
0.275
0.006
14.975
0.070
15.028
15.498
15.502
15.471
14.997
15.001
-460
0.275
0.006
15.475
0.070
15.528
15.998
16.002
15.971
15.497
15.501