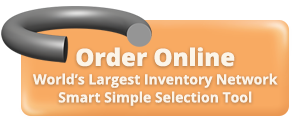 FFKM o-rings and Perfluoroelastomer materials provide the highest temperature (up to 620°F) and most universal chemical resistance of any rubber o-ring and gasket material. FFKM o-rings are utilized in the most demanding applications with dozens of compounds engineered for targeted application performance like low or high temperature, chemical compatibility and industry compliance.
Allorings.com has the world's largest inventory network of high performance o-rings, including thousands of non-standard sizes that can be custom-made within a few weeks, typically without tooling fees. For high-performance applications, your FFKM o-rings are available and ready to ship today.
FFKM O-Ring Material Comparison Table
FFKM O-Rings are available in a variety of brand names like Kalrez ®, Chemraz ®, Simriz ® and Markez ®. Refer to our FFKM O-Ring material comparison chart to compare relative price and performance properties some of the more popular Perfluoroelastomer FFKM materials.
Compound Number

Brand

Color

Durometer (Shore A)

Relative Price

Typical Inventory Level

Typical MFG Time

High Temp (° F)

Low Temp (° F)

Strong Acids

Hot Amines

Steam < 300 °F

Steam > 550 °F

Explosive Decompression

USP Class VI Medical Grade

FDA Compliant

Improved Compression Set Resistance

Plasma Resistance

Semicon

Oil and Gas

Chemical Processing

Life Sciences

Paint Spray Solvents

Aerospace

Alternative Fuels

Z1028
Markez®
Black
75
2-4 Weeks
608 (320ºC)
5 (-15ºC)
Data Sheet
Markez® Z1028 - Best value general purpose performance, higher temperature resistance, wide chemical compatibility, compare to Kalrez® 6375 and Kalrez® 4079
Z1026
Markez®
Black
75
3-4 Weeks
480 (250°C)
5 (-15°C)
Markez® Z1026 -Best value general purpose without higher temperture performance, good resistance to basic solvents and chemicals but not steam or strong acids. Compare to Chemraz® 505, Simriz® 485, Markez® 1205
Z1210
Markez®
Black
80
6-8 Weeks
450 (230ºC)
20 (-5ºC)
Data Sheet
Markez® Z1210 - General purpose, improved acid resistance, solvents and a wide range of chemicals, steam resistance, compare to Kalrez® 6375
SZ485
Simriz®
Black
75
6-8 Weeks
450 (230ºC)
20 (-5ºC)
Simriz® SZ485 - General purpose, not for use with steam or strong acids, compare to Markez® Z1028, Z1205 and Z1026
Z1352
Markez®
Black
75
3-4 Weeks
500 (260ºC)
5 (-15ºC)
Data Sheet
Markez® Z1352 - Improved Acid, Amine and Steam resistance, compare to Kalrez® 6380 and Kalrez® 1050LF
Z1401
Markez®
Black
80
4-5 Weeks
620 (325ºC)
-20 (-30ºC)
Markez® Z1401 - Higher and wider temperature range, general purpose, compare to Chemraz® 615 and Kalrez® 4079
Z1409
Markez®
Black
75
4-5 Weeks
500 (260ºC)
5 (-15ºC)
Data Sheet
Markez® Z1409 - FDA compliant for food and life science application, good in steam, acids and wide chemical compatibility. compare to Kalrez® 6230
Z1318
Markez®
White
75
4-5 Weeks
500 (260ºC)
5 (-15ºC)
Markez® Z1318 - Medical Grade, USP Class VI, FDA, USDA 3A, Compare to Kalrez® 6221
C505
Chemraz®
Black
75
4-6 Weeks
450 (230ºC)
-20 (-30ºC)
Chemraz® C505 - General purpose, not for use with steam or strong acids, compare to Markez® Z1028, Z1205 and Z1026
C605
Chemraz®
Black
80
4-6 Weeks
500 (260ºC)
-5 (-20ºC)
Chemraz® C605 - General purpose, compare to Markez® Z1028
Z1319
Markez®
Black
75
3-4 Weeks
620 (325ºC)
5 (-15ºC)
Data Sheet
Markez® Z1319 - Higher temperature resistance, excellent steam resistance, low compression set, low permeability and very low outgassing. Compare to Kalrez® 4079 and 7075
Z1321
Markez®
Black
75
3-4 Weeks
475 (245ºC)
-45 (-43ºC)
Markez® Z1321 - Improved low temperature resistance for use in oilfield and gas exploration, wide chemical resistance compare to Kalrez® 0040
K6375
Kalrez®
Black
75
6-8 Weeks
525 (275ºC)
-5 (-20ºC)
Kalrez® K6375 - General purpose, compare to Markez® Z1028
C615
Chemraz®
Black
80
4-6 Weeks
620 (325ºC)
0 (-18ºC)
Chemraz® C615 - Higher temperature resistance general purpose,not for use with steam, compare to Markez® Z1028, Z1401, Z1319 and Z1213
K7075
Kalrez®
Black
75
6-8 Weeks
620 (325ºC)
20 (-5ºC)
Kalrez® K7075 - Higher temperature resistance general purpose, compare to Markez® Z1028, Z1401, Z1319 and Z1214
K4079
Kalrez®
Black
75
6-8 Weeks
600 (315ºC)
20 (-5ºC)
Kalrez® K4079 - Higher temperature resistance, not for use with steam, compare to Markez® Z1028, Z1401, Z1319 and Z1213
Z1412
Markez®
Black
90
3-4 Weeks
590 (310ºC)
5 (-15ºC)
Data Sheet
Markez® Z1412 - Higher temperature resistance Norsok M710 AED explosive decompression resistance, excellent resistance to Sour gas and associated chemicals and steam, compare to Kalrez® 7090
Z1322
Markez®
Black
90
3-4 Weeks
480 (250ºC)
-40 (-40ºC)
Markez® Z1322 - Lower temperature resistance, AED explosive decompression resistance, providing the best overall temp range and Chemical resistance, compare to Kalrez® 0040
C526
Chemraz®
Black
95
4-5 Weeks
475 (245ºC)
-5 (-20ºC)
Chemraz® C526 - Explosive decompression, compare to Markez® Z1322
Z1403
Markez®
White
75
4-5 Weeks
600 (315ºC)
-20 (-30ºC)
Markez® Z1403 - Wider temperature range, higher purity, lower extractables, improved plasma resistance. compare to Kalrez® 8575
Z1216
Markez®
White
75
6-8 Weeks
620 (325ºC)
20 (-5ºC)
Data Sheet
Markez® Z1216 - Improved plasma resistance higher purity higher temperature resistance, very low compression set over time. compare to Kalrez® 9100, 9500 and Chemraz® DXZ
Z1411
Markez®
Clear Amber
62
4-6 Weeks
450 (230ºC)
5 (-15ºC)
Markez® Z1411 - Higher purity amber tinted clear, same as Markez® Z1407 but lower durometer for lower compression force for delicate applications, compare to Kalrez® 8002
K8575
Kalrez®
White
62
6-8 Weeks
575 (300ºC)
20 (-5ºC)
Kalrez® K8575 - High temperature semiconductor processing, compare to Markez® Z1216, Z1308
K9100
Kalrez®
White
74
6-8 Weeks
575 (300ºC)
20 (-5ºC)
Kalrez® K9100 -Higher purity translucent white, compare to Markez® Z1216, Z1307