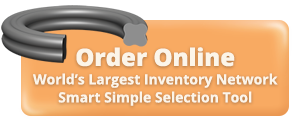 X-Rings are a common variation of the more basic O-Ring.
X-Rings are designed for improved dynamic application performance.
The right combination of X-Ring material and X-Ring groove design will maximize sealing performance life.
We make buying X-Rings quick and easy with low minimum orders and responsive service.
We Supply All the Popular X-Ring Materials in Any Durometer Hardness and Color Variation.
X-Rings are most readily available in the same USA standard sizes as O-Rings
Custom X-Ring Sizes Typically Without Tooling or Set Up Fees with Rush Delivery options
X-Ring Technical References
X-Ring Material Selection Reference Guides
X-Ring Sizing Charts
O-Ring Groove Design Reference Guides utilize the same defaults as O-Rings and adjusted to maximize application performance
Rubber-Chemical Compatibility Guide